Details
Now Available: Studia graeco-arabica 4 / 2014 - Online edition
Volume 4, 2014 of "Studia graeco-arabica" is on line.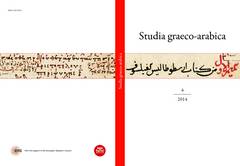 Studia graeco-arabica is the journal on line of the European Research Council Advanced Grant 249431 Greek into Arabic. Philosophical Concepts and Linguistic Bridges. It features critical articles and reviews on the transmission of philosophical and scientific texts from and into various languages – Greek, Syriac, Arabic, and Latin – from late Antiquity to the Middle Ages and Renaissance.
Issues of Studia graeco-arabica availables in print (ISSN 2281-2687):
Institutions and libraries interested in receiving free sample copies of Studia graeco-arabica are kindly requested to contact us: info@greekintoarabic.eu
Further Information
Submissions to the journal are welcomed : Articles for publication in Studia graeco-arabica should be submitted online through Editorial Manager, please click here or addressed to the editor-in-chief. The language of publication is in practice English, although papers in French, German and Italian are also published.
Related News:

A member of Greek into Arabic has been awarded a grant by the Fritz Thyssen Stiftung - 23.09.2014 16:29
Now Available: GALex, 11 - 23.10.2013 09:40
Now Available: ʿAbd al-Laṭīf al-Baġdādī's Philosophical Journey by Cecilia Martini Bonadeo - 07.10.2013 16:12
< Now Available in print: Studia graeco-arabica 3 / 2013